Great Hostess Gifts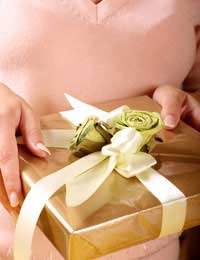 If you are invited to a dinner, a holiday party, an evening of cocktails, or to stay overnight with someone, you may want to bring a hostess gift. While in some cases, not bringing a hostess gift is perfectly acceptable, it is a nice gesture that shows you appreciate the hospitality shown to you.
But, many people often have a hard time decided what to get as a hostess gift. What you get your hostess may depend on two things: how much money you wish to spend and how well you know the hostess. If you are going to a dinner party thrown by a good friend, you should some knowledge about what that person likes to help you decide on a gift. However, if it is someone you do not know well, it might be a bit more difficult to find a suitable gift. There are some great hostess gifts that should work in an situation.
Food
If you have a knack for it, homemade gifts are always a great idea. If you are attending a gathering for a holiday, keep the holiday in mind when making your hostess gift. For example, if it is a Christmas party, an attractive tin of homemade cookies or brownies is a great idea. If it were a Valentine's Day party, chocolate dipped strawberries would make an excellent hostess gift.
If you are not good at making goodies, chocolate is usually much-appreciated. You do not have to get the most expensive brand, but try to find a nice, reasonably priced decorative box of mixed chocolates. Another great idea is to check your local stores for gourmet bottles of olive oil and balsamic vinegar. Most stores carry these now in beautiful bottles.
Kitchen Items
Kitchen items are always nice, especially if you are going to a dinner party. If your hostess is pretty stylish, consider getting her a sushi set that includes chopsticks and soy sauce dishes. You can also look at fancy peppershakers filled with fresh peppercorn.
If it is a wine tasting party, you can purchase some gourmet cheese and wrap it on a decorative cheeseboard with a cheese knife. This is great for the party and the hostess will have the nice cheeseboard to keep afterwards. Wine charms are another great gift to take to a wine tasting party. These are cute little ornaments that you hang on the wine glasses to know which one belongs to whom.
Another good idea is to visit a local coffeehouse. They will probably offer an assortment of coffees, cups, and mugs that would make a really nice gift, but not break your budget. If you know your hostess doesn't like coffee, tea is a nice gift she can have when relaxing after the party is over.
Candles
This one can be a bit tricky. There seem to be two types of people – those that love candles and those that do not like them at all. If you know your hostess likes them, pick up some elegant candles or scented votives. It is all the better if you know what her favorite scent is! If you know a bit about her décor, pick up a nice candleholder to go with the candle.
Stationary
In a world filled with emails, some people do still like to sit down and write letters. Visit to your local card shop and see what type of stationary they have. You may find something perfect for your hostess.
What to Avoid
While it seems like a great idea, most etiquette experts caution against bringing flowers as a hostess gift for several reasons. It might clash with the party's décor. If you purchase flowers without a vase, the hostess may have a hard time something suitable for the flowers. It is a better idea to purchase a gift certificate for flowers to send to the hostess a few days before the party. This way, she can choose the flowers that will go best with the party.
If you are going to a party, especially of someone you do not know well, taking a hostess gift is always a nice thing to do. Even if you get something the hostess isn't just totally in love with, it is still the thought that counts.
You might also like...