Outdoor Party Ideas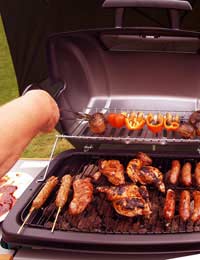 There is nothing quite as nice as inviting guests over for an outdoor party. However, next time you throw an outdoor party, shake things up a bit with a new outdoor party idea! Here are a few ideas to get you started:
Fire Up the Grill
One favourite outdoor party idea is grilling. Fire up the grill to cook your favourites - ribs, hamburgers, hot dogs, steaks, chicken - whatever you and your guests like. Make sure you have the proper tools, especially a meat thermometer to make sure your meats reach the correct cooking temperature. Pick a few side items to serve with your grilled meats such as corn on the cob (wonderfully delicious when wrapped in aluminum foil and cooked on a grill) or a salad with fresh lettuce and vegetables. Serve your dinner on sturdy paper plates to avoid a lot of mess (but be sure to have a few garbage cans nearby for quick cleanup).
For decorations, make your guests feel comfortable and cozy with paper or metal lanterns suspended from the trees or porch. To avoid bugs ruining your party, purchase a few citronella candles or torches to burn. If the weather threatens to turn cool, consider purchasing tiki torches or set up a fire pit to help keep the chill off your guests.
Garden Party
For years, people have thrown outdoor tea parties, but here are a few things you should consider in order to throw an elegant tea party outdoors. Make sure you have some fresh cut flowers. While paper plates and cups are great for a grill party, you will want to use your best china and cloth napkins for a garden tea party. Make sure you have enough room - that includes both tables and chairs - for everyone to sit down. You can even use some of the fresh flowers to adorn the chairs.
As for food, most tea parties have food that requires no cutlery. Sandwiches such as watercress, cucumber, or egg (with the crust removed and cut into quarters) and delectable sweets such as sugar cookies or petit fours are perfect for a tea party. As for the tea itself, that depends on what you and your friend prefer, but you should have milk, sugar, sweetener substitute, and lemon wedges available.
Backyard Luau
Turn your backyard into a little piece of Polynesian paradise with a backyard luau party. Large tiki torches placed around the party area will help create a welcoming setting. You should be able to purchase luau decorations such as inflatable palm trees, grass skirts, and brightly coloured leis at a party supply store. You may even be able to find a large inflatable tiki pole! Be sure to look at your local music store for a compact disc of Hawaiian music to finish the setting.
A luau usually feature pig as the main meat dish, but you do not have to purchase a whole pig. You can purchase pork butt, wrap it in banana leaves, and roast it in the oven or over an open flame. As an alternative, you can also cook huli huli chicken. Other great items for your feast include chicken long rice, caramel sweet potatoes, lomi lomi, haupia, or banana bread. Do not forget the freshly sliced pineapple! If you are serving drinks, consider tropical favourites such as a Mai Tai, Pina Colada, Blue Hawaii, or Lava Flow.
Having an outdoor party with family and friends can be great fun for everyone. Next time you throw a party, consider one of these outdoor party ideas to help you make this a enjoyable and memorable experience for everyone!
You might also like...