Throwing a Family Gathering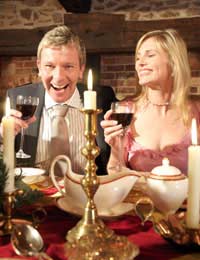 Family gatherings can be an enjoyable time. You can reminisce over old pictures and show off new spouses and babies. But they can also be trying. The gathering should be well thought out as to what you plan to serve and do during it. Here are some key tips to throwing a fantastic family gathering.
Planning
If you decide to throw a family gathering, it will help immensely to plan everything out. You will need to decide whom you are inviting. Once you decide how many people you will be inviting, you need to decide where to hold the gathering. If you have a huge yard and the weather is nice, you might want to consider holding it there and having a cookout. If you are just having a small gathering of cousins and their spouses, you can host it at your house or at a local restaurant. If you are having a large gathering – 20 or more people – you may want to see if there is a place in town that you can rent. Check with places such as country clubs and reception halls to find out their prices and what amenities they may offer.
Invitations
Once you have decided on the place, date and time, you may want to send out invitations. These can be professionally printed invitations or ones that you create using your own computer. It does not even have to be in the form of a card with an envelope – you can send a postcard with all the specifics. Have everyone RSVP so you know exactly how many people to expect.
The Menu
Once you have the invitations sent out, you can start working on the decorations, menu, and music (if desired). If you have the funds, you may want to have the gathering catered. It may cost more in the end, but will save you a lot of time and hassle. When you plan the menu, you will need to decide whether you will be serving appetizers or a full course meal. Take into consideration that you may have some family members with special needs, such as vegetarians and diabetics, so be sure to include a variety of foods. You will need to decide on beverages as well. Do you want alcoholic beverages served? You will need to make sure you have plenty of dishes, silverware, and cups. Paper plates are perfectly acceptable, but purchase the heavy-duty ones so you do not have family dropping food off flimsy plates.
Decorations
What type of decorations do you plan on having? Some people have family gatherings to celebrate certain events such as a 50-year anniversary or a newly wed couple. If this is the case, your local party supply store will have plenty of decorations. If you are not celebrating a special event, you may want to have a theme party. You can have a 80s party, a Hawaii luau, or even a masquerade party, depending on how adventurous your family is.
Activities
Is this family gathering just going to be an opportunity for people to get together or it is going to be more of a party? If it is a party, you will need to consider whether you want to have music. This can be in the form of a disc jockey or a live band, depending on your budget. Other activities you can consider is playing games or encouraging everyone to bring an old photo and everyone tries guessing whom it is. Bringing old photos is also a good way to get everyone talking and mingling, but you may need extra tables on which to lay them.
Family gatherings can be a fun time for all. But it helps to make it a smoother experience if you make plans for the event. That way, you will be assured of having a headcount, enough food, enough seating, and something to keep your family entertained.
You might also like...